True Stories of People Who Have Been to Heaven
A near-death experience (NDE) is a profound personal experience associated with death or impending death which researchers claim share similar characteristics. When positive, such experiences may encompass a variety of sensations including detachment from the body, feelings of levitation, total serenity, security, warmth, the experience of absolute dissolution, and the presence of a light.
Many people have died and lived to tell the tale, and many have come back with stories of what many believe to be Heaven. Let's take a look at the stories of people who have been to Heaven and back.
1. Anita Moorjani
Anita Moorjani, a public speaker, was diagnosed with lymphoma in 2002 and was quickly losing her battle to cancer. She had withered down to 85 pounds and battling tumors from the base of her skull to her abdomen. In February 2006, she slipped into a coma. It was then that Anita says she underwent a near-death experience.
In an interview with NBC's Today, Anita said, "I felt as though I was above my body," she said. "It was like I had 360-degree peripheral vision of the whole area around. But not just in the room where my body was in, but beyond the room."
During the experience, Anita was reunited with her father, who shared with her that she had gone as far as she can go. If she decided to go any further, she wouldn't be able to turn back. Anita, however, didn't want to turn back and return to Earth, because the place that she had visited was incredibly beautiful and pain-free.
In the interview, Anita said that "all of the discomfort and fear of life was gone," and she simply felt incredible, with feelings of "unconditional love."
Anita said she felt this sense of overwhelming, incredible clarity "where everything started to make sense." So she decided to return to Earth and her body because she had this inner knowing that her body would heal very quickly.
And it did. Within four days of waking up from her coma, her tumors shrunk by 70 percent, and physicians were in disbelief. It was a miracle.
2. Annabel Beam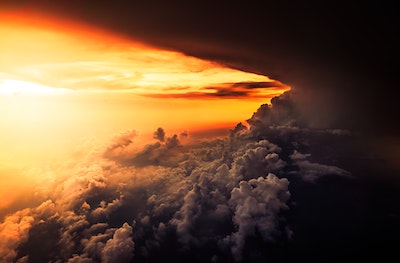 Little Annabel Beam, now age eight, was diagnosed with a chronic digestive disorder when she was 4. Unknown to her parents, she was usually suffering in silence, due to her sweet and gracious temperament as a child. Until one day, the suffering started to overwhelm little Annabel.
Annabel became in such excruciating pain, that she had told her mother that she was ready to die and go to Heaven to be with Jesus.
She was worried to be in such pain for the rest of her life and was ready for the pain to be over with. Annabel's parents refused to believe that their little daughter was to the point where she would rather die than keep fighting.
All of this came to a screeching halt in the form of a tree. Annabel had been climbing a tree in the family's yard, when a tree branch cracked, sending Annabel plunging 30 feet. During her descent, Annabel hit her head three times on the way down and fell into the hollowed-out base of the tree. At that moment, she claims that she died and went to Heaven.
In an interview, Annabel shared, "It was really bright, and I sat on Jesus' lap and he told me, 'Whenever the firefighters get you out, there will be nothing wrong with you. And I asked him if I could stay and he said, 'No, I have plans you need to fulfill on Earth that you cannot fulfill in heaven.'"
Annabel returned to consciousness in her body. Upon reuniting with her parents after her fall, she was very matter-of-fact with her parents regarding her experience. Quickly, Annabel's digestive conditions subsided.  She is incredibly now symptom-free and has gone from taking 10 daily medications to none.
3. Eben Alexander
4. Charlotte Holmes