Complete Guide to Canted Coil Springs
You may be wondering what a canted coil spring is. How are canted coil springs used in everyday applications? What makes it different from other coiled springs? What industries or applications use them? At Answers for Everyone, we are dedicated to providing you with the information you need. In this article, we'll cover what canted coil springs are, what their uses are, what applications and industries they're applied to, and additional information about canted coil springs!
So, what are canted coil springs, exactly? A canted coil spring is a slanted, circular spring that produces a very flat load curve when compressed. These springs are used to energize U-cup seals and other components, providing constant, predictable loads throughout the wide deflection range they offer. 
Advanced EMC Technologies offers their FlexForce Canted Coil Springs. These unique, canted coil springs were initially designed as an energizer for Teflon seals. They provide a predictable and flat load curve in the compressed position for seal applications that require highly critical torque and friction specifications.
Within the past twenty years, their FlexForce Canted Coil Spring design has found applications in connecting two components–– "latching and holding" ––where the insertion and removal force can be designed with precision.
EFI/RFI Shielding
Canted coil springs can also be used to shield electronics from harmful RFI and EMI interferences. Electromagnetic interference (EMI), also known as radio-frequency interference (RFI), is a disturbance generated by an external source that affects an electrical circuit by electromagnetic induction, electrostatic coupling, or conduction. This disturbance may degrade the performance of a circuit or even stop its function.
When dealing with data, EMI can lead to an increase in error rate or even total loss of your data. EMI can be caused by changing electrical currents and voltages created by both man-made and natural sources. These include ignition systems, cellular networks of mobile phones, lighting, solar flares, and auroras (southern and northern lights).
In canted coil springs, the independent coils effectively serve as multiple contact points for grounding. This allows contact to be made even while vibrating or under shock loading. They provide an almost constant force over a broad compression range. Because of this, they offer consistent shielding even when surfaces are irregular or uneven and in situations where tolerances may vary.
Slant Coil Springs Are Reliable & Consistent
A slant coil spring offers a reliable, consistent approach to EFI/RFI shielding. They have protection from crosstalk interference. It's also possible to tune their electrical properties to meet specific impedance specifications. They are highly customizable to provide shielding against specific ranges of radiated and conductive interference.
These springs can also be used in a variety of situations and configurations, including waveguide flanges, radial connectors, coax connectors, connect and disconnect assemblies, and rectangular electronics enclosures.
Benefits of Slant Coil Springs for Medical Applications
Canted coil springs are useful across a variety of industries, including those that deal with surgical and medical devices. They provide a reliable connector in three different ways.
First, they hold and retain two parts in alignment with a highly controlled sliding force. Second, they securely latch two parts together while allowing them to still be unlatched. Finally, they can permanently lock two parts together. An example of an application that uses canted coil springs as a connector involves locking together the frame assembly on a ventilator cart.
Because of canted coil springs' ability to provide more consistent spring load values over a wide range of displacements, they are often used in energizers for seals that need to maintain their performance. Even in the presence of eccentric or uneven contact surfaces, runout, or hardware gaps, a canted coil spring provides high performance. Many of these energized seals are used in a variety of medical and surgical equipment.
EMI/RFI can be very dangerous for medical equipment––from disrupting the normal operations to compromising the data transmitted or received. That's why canted coil springs are used in electrical enclosures or used in data transmission cables. These springs are easily customizable to meet specifications to protect equipment from crosstalk interference.
Canted coil springs are used in active implantables like neurostimulators and pacemakers. Because of the springs' design, these springs create a consistent electrical connection between an assembly's battery and lead–all while within the human body.
Industries
Advanced EMC Technologies' products help people across a wide variety of industries. Whether in the medical field or mechanical, canted coil springs are quite useful! Here are some of the industries that canted coil springs can be applied and may be helpful:
Medical Electromechanical Industry and Devices

FlexForce Canted Coil Springs are useful in medical non-implanted and implanted devices for connection (holding and latching) where removal and insertion forces can be specified or for reliable electrical connectivity or one assembly for both.
The spring or assembly can be easily cleaned for an ultra-clean environment, which is essential in orthopedic and surgical devices.
Advanced EMC Technologies' Flouroseal and Fluorolip energized sealing products stand against leakage in medical pumps, valves, and fluid delivery systems.

Oil & Gas Industry

The demands of oilfield applications include:

Resistance to pressure
Temperature compatibility and chemical compatibility for downhole and aggressive fluids pumped downhole for fracking.

Automotive Industry

Some electric or hybrid vehicles rely on critical connections.
FlexForce Canted Coil Spring's ability to latch, conduct, and lock allow engineers to reduce weight and complex assemblies.

Aerospace & Defense Industry

Used in connecting designs and protection against lightning strikes with the ability to conduct electricity while serving as a connecting or locking mechanism.
Slant Coil Spring Features & Applications
Due to the small coil size and the number of independent coils, connection for optimum electrical conductivity is possible in addition to mechanical locking or holding applications. The slant coil spring offers an economical design option that can reduce radiated and conducted interference to prevent premature failure in electrical devices. This is in regard to EMI/RFI shielding applications.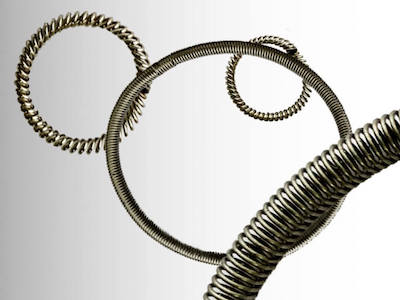 These are some of the applications and features of Advanced EMC Technologies' FlexForce Canted Coil Springs:
Latching Hardware
Holding Component
Locking System Hardware
Electrical Contact
EMI/RFI Shielding
Contact and Latching
Predictable In/Out Force
Easy Hold & Lock Design
Numerous Contacts
Cross Sections .032" to .375"
Stainless & Copper Alloys
Almost Zero Compression Set
Why FlexForce Canted Coil Springs are for You
Advanced EMC Technologies' FlexForce Canted Coil Springs are available in 300 Series Stainless, Hastelloy, and copper alloys to meet numerous environmental conditions or specific conductivity or shielding requirements. They offer their Canted Coil FlexForce springs in gold, nickel, and silver plating for use in electronic and semiconductor applications. They're available in many different configurations, cross-sections, and sizes to meet your project's needs!
Slant Coil Springs have proven to be incredibly valuable to a wide variety of industries. Whatever your unique field, this great piece of equipment is sure to assist you.
Contact Advanced EMC Technologies' experienced professional staff for more information about their FlexForce Canted Coil Springs or to answer any questions about your project.
Thank you for reading! You can find more answers to life's questions here.