How to Keep the Food in Your Food Truck Cold
Food trucks are a booming business in most cities. You can find everything from fresh coffee to fish tacos in these quaint mobile restaurants. Food trucks are a great way to grab some fresh air, spend time with friends, or try something besides eating at your favorite restaurant. If you're looking into buying your food truck, you may have tons of questions on the best way to create your food truck business. Food trucks are a great option if you're looking to enter the food scene, but keep in mind that they also have relatively strict regulations that must be followed based on your local health department. Food trucks are still considered commercial kitchens, so you will need a whole host of specific equipment to ensure you're a fully legal and authorized operation.
So, how do food trucks keep food cold? You will need a retrofitted freezer that's picked based on what kind of food you're offering and the size of your truck. Some food trucks utilize other options besides a freezer, like a cool chest, but this is not recommended since you'll most likely serve high volumes of people. Iceboxes and bins aren't the best for keeping lots of food frozen for extended amounts of time. You may be able to use one if you intend to stay open for a brief period, but that's not common.
The perishable food in your truck, like fresh meat, veggies, and more, will all need to be deposited in your temperature-controlled food truck freezer. If you're leaving it in the food truck overnight, be sure your generator or other power supply is ready and on for the whole night. Otherwise, you'll end up with a freezer full of ruined food! If you can't keep your generator on at night, then you could store your perishable and frozen items in another commercial freezer or at home. Keep reading to find out more about how to tailor your food truck to meet your needs perfectly.  
What Are the Best Fridges for Food Trucks?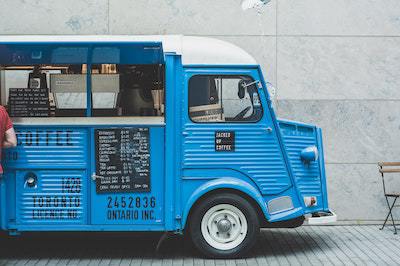 When you're considering fridges or freezers that will be perfect for your food truck, many options and variables will influence your decision. First, consider what type of food you will be serving in your truck. If you're serving ice cream or smoothies, you will want to opt for a larger and more customized freezer.
Most of your products will be frozen, so the freezer will take up much more space than if all you need to store is fresh produce. You will also want to consider the amount of energy and the overall size you will need for your food truck. More than likely, your food truck will be running on a generator, which means that your freezer will need only to take up as much energy as the generator can produce.
Be sure to check the wattage on your generator and the wattage on your potential freezer before investing. Overall, it would help if you got a commercial freezer/fridge that works with your food truck's size, type, and energy efficiency. Commercial freezers have been designed to be efficient, saving you money and freezing a substantial amount of food. 
What Are The Types of Food Truck Fridge/Freezers? 
There are a ton of freezer/fridge options for your food truck. Listed below are some options that could help narrow your search for the perfect solution to keeping your food cold or freezing. 
Worktop Freezers/ Refrigerators
Worktop freezers are convenient because the top is counter space. The small square footage of a food truck needs all the counter space it can get. A worktop freezer is an excellent option for almost any food truck. The extra space can be used for chopping and storing essential items. 
Under-Counter Refrigerators
Food trucks are tiny, and saving space with your appliances is crucial. You don't have to buy the most miniature fridge or freezer option, however. With an under-counter fridge/freezer, you can save space. However, keep in mind that some under-counter models will need the health department's approval due to ventilation. You will want to measure the fridge area to check if there is enough space for ventilation in the truck. 
Reach-In Refrigerators
Let's say your truck will be serving salads, juices, or another food that requires plenty of fresh veggies. In this case, a reach-in fridge could be an ideal option. Opting for a reach-in fridge or freezer enables you to access smaller items easily. It will look kind of like a residential fridge, but yours will be commercial.
Refrigerated Chef Base 
A refrigerated chef base is relatively similar to a worktop fridge or freezer. They come with tops that you can use as a counter, but this counter is more robust and durable. It is more versatile and can handle more chef action than a typical worktop. However, something to keep in mind with this fridge/freezer is ventilation. We keep mentioning ventilation because it's a make or break subject in the food truck world. Since your fridge or freezer will be producing warm air from the condenser, you'll have even more hot air to ventilate. 
How Should You Freeze Food in a Food Truck?
As we mentioned, food trucks should always be treated as small commercial kitchens. If you're a chef or owner of a food truck, you should focus on cooking as many items as you can fresh in the food truck. However, if you have to freeze some things for the next day or catering, you will need to take the proper measures to ensure it stays as fresh and safe for consumption as possible. 
Chicken is a good option for pre-preparing, while other foods such as most seafood or burgers should be cooked fresh. The most important thing about pre-cooking and freezing food in a truck is ensuring that the fridge/freezer stays at a safe temperature. As we have mentioned, having a reliable generator will be essential when it comes to freezing and keeping your food fresh.
Maintain a Consistent Temperature
Check the local food truck regulations on inside generators for your fridge since different states allow them while others do not. You'll also want to ensure your fridge/freezer has an excellent thermometer, so you always know what temperature your food is. For a fridge, you'll want to keep the food around 40 degrees Fahrenheit. If the temperature of the food in your fridge climbs up past 40 degrees for a minimum of two hours, you'll need to throw it out. Sady, you'll lose the food, but by that point, it is no longer safe to serve your customers. Serving your customers expired food could result in a lawsuit, requiring you to hire a lawyer.
Don't Overpack Your Freezer
When you're filling your fridge up with foods, make sure you don't overpack it. To keep the food fresh and uncontaminated, you need to ensure there's enough circulating air between each product. Never jam as much as you can into your commercial fridge since your food could make your customers sick. If you think your fridge has been overpacked for several hours, the safest route is to throw the food out. 
For a freezer, always set the temperature for at least zero degrees Fahrenheit or even lower. Ensure your meat stays separated from the rest of the food in the freezer and place it on trays. This will help ensure that juice doesn't drip onto other foods if the freezer ever gets too warm. If the power of your food truck unexpectedly goes off before you can prepare, try to keep the fridge and freezer doors shut for as long as possible, trapping cold air inside. Freezers can stay frigid for around 24-48 hours if it's full and the doors remain closed. 
In Conclusion
Whether you're a veteran food trucker or just now jumping on the bandwagon, there's plenty to learn about the best practices of keeping your food fresh and ready for customers. Since food trucks are such small spaces, it can be hard to find convenient and big enough solutions to hold what you need. Not only that, but you also need to consider the efficiency of your appliances. Most food trucks get electricity from a generator, so be sure to check the allowable wattage before ordering or picking up your appliances. The more energy-efficient your appliances are, the better since your entire truck will be running on your power source. Some food truck owners are searching for ways to apply solar energy to food trucks, eliminating this consideration.  
In the list of appliances you need to run your food truck, a commercial fridge and a freezer should most likely be somewhere at the top. These appliances will keep your food fresh and enable you to pre-cook certain dishes before you even park for the day. Remember, your fridge and freezer are essential components are your food truck and can seriously impact the food you serve. While every food truck will have different needs based on size and type of cuisine, make sure you're getting the suitable fridge and freezer for your business. We hope these tips have helped you learn more about how to start or update your food truck!
Thank you for reading! You can find more answers to life's questions here.