Does My Food Truck Need a Generator?
Are you planning to buy a food truck and begin your new business? Or do you already have one and you're looking to improve your sales? This article has everything you need to know about the benefits of adding a generator to your food truck business, which one to choose, and what to expect from the addition.
So, do food trucks need a generator? The short answer is yes! Depending on the kind of food you're offering, different amounts of power are required to run your equipment: food truck dishwashers, refrigerators, ovens, stoves, etc. Based on where you park, you may have access to power, but it is more likely that a generator will be necessary to run your business at full capacity.
What to Consider When Buying a Food Truck
The mobile food service industry is booming right now! So, if you're seriously considering buying a food truck there are some things you need to know to be successful.
Start with an idea – name, menu, demographic, location, price, and sales goals. Every business requires a well-thought-out plan before launching. Chances are if you've decided to open a food truck business, you probably already have ideas on a name and a menu. Now, you need to determine your sales: what items will cost and how much you want to sell per day.
Determine the necessary equipment. After you've settled on your menu, you will be able to determine the kinds of equipment you will need. This is also the stage where you should nail down your budget. Purchasing equipment is a one-time thing, but you will be buying ingredients monthly – so you need to find a vendor/store and plan your budget accordingly.
Figure out parking restrictions. Depending on the city/town/municipality you are in, parking restrictions will vary. You must find out what permits you need, and where you can/want to park your truck. There may even be areas where you can remain stationary. After you figure out where you want to be, you can create a schedule that allows you to make the most money as you move around the city, or fix prices if you choose to remain stationary.
Truck size. Some areas have restrictions on how high and long trucks can be – this is important when considering the type of truck you want to buy. Also important to consider are the parking spots that you plan to sell from – you don't want to buy a truck and then not be able to fit where you will operate!
Purchase your food truck and open your business. By now, you've got a pretty good idea of what your business will look like. Now it's time to take the leap and buy the food truck. After completing each of these steps, you should know what kind of food truck will work best for your business – food cart, truck, trailer, etc. It will depend on the kind of storage and equipment you need.
Best Generator for Your Food Truck Business
Depending on the type of equipment you need, your power source needs will follow accordingly. If you serve meals that require a lot of preparation and storage, your generator will need to have a stronger capacity and vice versa.
Before purchasing your generator, take the time to think carefully about what you need – you don't want to end up buying multiple!
Power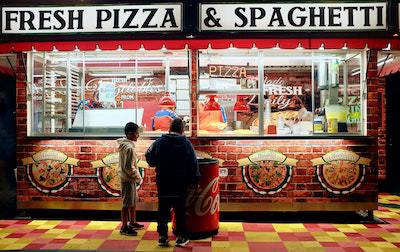 To start, think about the most important reason for getting a generator: power and how much it requires to run your business. All of your electrical appliances, plus 20% extra power is the general rule of thumb. Also, take note! It's important to distinguish between running and starting watts – both with your appliances and your generator. You can learn more about how food trucks get electricity here.
Noise
Perhaps the most important side effect of getting a generator that can affect your business atmosphere is the noise. Not only for your customers' comfort but also for your sanity! Be sure to research the generator you're interested in and aim for 70 dB or lower.
Runtime
Food truck shifts can last from a few hours to all day long. This can greatly affect the usefulness of your generator if you have to keep filling it with gasoline during busy times. Even if you don't open for long shifts, it won't hurt to buy a generator that can run longer than you expect to need it.
Budget
Generators are one of the most important items you can purchase for your food truck business. You want to make sure that you are purchasing the right one that will power your food truck without issues, has everything you need, and fits within your budget. (It might be good to create your budget around your generator.)
Food Truck Generator Safety Tips
So we have established the importance of getting a generator to run your food truck business, now we need to talk about the importance of correctly installing them. Before opening your business, it is extremely important to consider the following precautions – for your safety, your staff's safety, and your customers' safety.
Hire a licensed professional to install your generator. This will ensure that your business is up to code and that it is installed properly.
Be sure that your generator is properly grounded.
Regularly inspect your generator and don't hesitate to repair any damaged parts.
Do not operate the generator in enclosed spaces and install carbon monoxide detectors for your safety.
Do not store extra gasoline in your vehicle and always keep a fully charged fire extinguisher near your generator.
Before refueling, turn the generator off and let it cool down.
Don't ignore the instruction manual – generators produce a lot of power and can be very dangerous if operated incorrectly.
Try to keep the generator away from customers and passersby; keep children away as the muffler can get hot enough to burn you.
Related Questions
How can I make my food truck business more profitable? 
As you probably know, the food truck business is booming right now. People are learning how to expand their businesses through marketing, private events, and merchandise, etc. These are the kind of steps you can take also to increase your sales.
Marketing and Merchandise: merchandise is everything these days! Social Media influencers are your friends – reach out to one in your area and ask them to work with you on a giveaway of merch and a gift card! This will provide you with inexpensive marketing and helps spread the word about your food truck. Especially with a food truck business, high-quality service will impact customer satisfaction!
Private Events: consider offering access to your food truck outside of regular business hours. Depending on how your truck operates, booking private parties, special events, even weddings could be great on your bottom line! Also, continue to work on your menu – maybe that can be an incentive for catering events – guests get access to new/private menu items.
How much does it cost to open a food truck business? 
Starting any business requires a lot of money upfront. You've got legal requirements like insurance, permits, and licenses – then the operating costs: vehicle, ingredients, staff, vehicle fuel, and maintenance – and finally marketing and advertising: building up your brand.
In general, depending on the specific type of business you want to open, you can expect to pay anywhere from $28,000 to $114,000 to get your food truck up and running. That may seem like a wide range, but it's all dependent on if you're buying a brand new truck and renting a kitchen to store groceries, etc. My recommendation would be to reach out to a food truck owner, ask their advice and see if they will consult with you on what it looks like to open your own mobile food services.
Where is the best place to park my food truck?
There are 4 main places to park a food truck where you will find the most success: street parking, food truck parks, festivals/events, and business/office parks. Depending on your city and its restrictions, street parking in public spaces is definitely the way to go. If there is a place in the downtown area near a park, bars, and shopping areas you will likely find great success. Sometimes it can be difficult to find this ideal spot – but keep looking because it is definitely worth it!
Food truck parks are ideal, especially if you enjoy competition. The marketing is done for you so you will already see a large number of customers – the trick will be how to entice them to choose your food truck over the others. Festivals and private events are good ways to boost your following – though the sales may not be as good at the actual event, you can still be hopeful because you may gain a new fan!
Finally, business/office parks can offer a steady income of customers and sales. This spot can be tricky because workers are looking for something fast and easy to eat, so if you choose to park here you will want to adjust your menu accordingly.