What You Should Know About Grilling On a Balcony
Grilling season is upon us! Memorial Day and other summer holidays are rapidly approaching. This leaves us with the age-old question of whether you can grill out with your favorite people on a balcony or not. Most nights when the weather is nice, an easy way to make a quick and delicious meal is to use a grill. Memories and communities are built around grilling food on holidays.
So, can you barbecue on a balcony? According to the International Fire Code, you cannot have open-flame grilling within 10 feet of any structures, combustible material, or overhangs. This ruling applies to using both charcoal and propane grilling. Since your balcony is certainly within 10 feet of your home or apartment, it is not wise to grill on the balcony.
We know that not all living situations are ideal for grilling so we want to help you understand why grilling on a balcony can be dangerous and costly if done without proper consideration. Any living situation could benefit from a quick safety check when it comes to grilling! Be smart and be educated when it comes to using any kind of flame and/or combustibles.
Safety First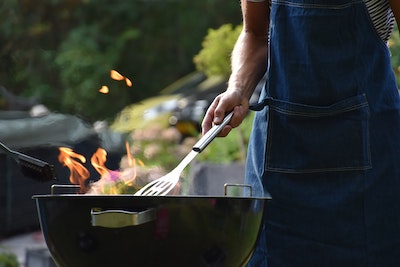 As mentioned previously, it is not wise to grill within 10 feet of any structures, combustible material, or overhangs.
Without knowing the materials that surround you, it's always best to avoid the risk of any heat or smoke damage. Although it may seem harmless for a quick meal, you can't predict what could happen.
Electric grills may be a safer option for barbecuing on a balcony but you still have the heat risk with unknown materials.
With any type of cooking, especially when grilling, it would be prudent to ensure you have a fire extinguisher close by. Extinguishers can be purchased almost anywhere for a small cost. Make sure you pay attention to expiration and servicing dates.
If you want to take your safety measures a step further, you can research ways to utilize your grill in the safest way possible. If you use a small charcoal tabletop grill, you may want to consider making a tent or dome with aluminum foil to help prevent any fat or grease from splashing into the grill.
A grease fire would most certainly cause an immediate issue and is harder to extinguish. Some places carry special flat mats to cover the grate to help protect against any fats leaking into the grill as well as make clean-up a breeze.
You can also prep some of your meals by pan-searing your meat or vegetables before transferring them to the grill to help reduce grease. Some experts suggest keeping a bag of flour nearby and a spray bottle of water close in the event grilling was to get out of control. The flour will help extinguish a grease fire and the spray bottle can assist quickly if an ember landed in the wrong place.
Check Rules and Insurance
Even with electric grills, depending on your living situation, you may need to check on tenant rules. Another factor to consider is checking with your renters' insurance policies or your homeowner's insurance. Most policies have loopholes you may not know about that would release them from having to help repair damages due to your own liability.
If you reside in an area with an HOA, you may want to also consult those rules and regulations. Nothing ruins a good night of grilling like receiving a fine. Typical apartment guidelines state that you must keep any allowable grill at least 30 inches from the main structure so make sure you have adequate space before heating up! If your balcony is a fire escape, please plan on not using the space to grill. 
Although you may think that you can grill without your apartment manager noticing, they may be using an outdoor surveillance system to watch for this type of activity.
We mentioned checking with insurance beforehand to make sure you are honest with your setup. Failing to do so could cost you in the long run with a lack of coverage in the event of an accident or emergency. Insurance companies will look for any loophole to not payout on a claim, especially when it's in regards to personal negligence with a grill!
Ask the Experts
Most experts will okay the use of smaller charcoal grills closer to the ground, but usually only if you are on a base floor dwelling. It never hurts to consult with the weather forecasts for high winds or excessive heat.
Calling your local fire department may also prove beneficial. Most of them will take time to come to examine your setup to give you a more definitive idea of what you can do safely.
Most structures are considered to be "combustible" with materials such as wood or certain paints. All it takes is a small ember to land in the wrong place and you'll end up needing more meat to grill on a much bigger fire. It never hurts to do any kind of research beforehand. Ask the important questions of your landlords if applicable.
Hop on sites like Pinterest and explore what other people are doing to grill safely when it comes to having a balcony. YouTube is full of how-to videos to stay safe while balcony grilling. Google your questions and find a solution that works for you.
Alternative Grilling Options
George Foreman carries an electric grill that can be used both indoors and outdoors safely for the balcony dweller. A simple Amazon search will cure your blues for smaller tabletop options and other brands that carry things just for you.
Electric grills take some getting used to but they get the job done if you truly need your grilling fix. Smokeless infrared grills are a new item that can also be used in place of your traditional grill. Alternatives such as these are also ideal for rainy days. You can learn more about barbequing in the rain here.
There are ways around rules for grilling on balconies. You may lose out on the "experience" some but at least you can still enjoy some excellent food that is still "grilled" regardless of your grilling situation or method. Looking for a creative way to enjoy that grilled taste? Check out the food trucks in your area! 
In Conclusion
Please keep safety in the forefront of your minds with grilling. If your living situation just isn't ideal to enjoy grilling, check with local parks with a playground that has an area where you can safely grill.
Campgrounds give you some nature time and most sites usually have a grill of some kind you can use. Check with your local lakes and facilities to chip in with friends to rent a shelter that comes with grills.
Know your neighbors? Spend some community time together in a safe area. If you have to distance yourself from your residence to grill, you might as well throw a party doing it. All in all, researching ways to safely do anything can be a game-changer.
With life now returning to normal, it may have been a while since you were able to bring the grill out. When you're enjoying outside time this grilling season, please be smart. Use caution when drinking alcohol. Be sure to assign safety rolls to people around the grill.
If you have the proper plan in place, you can actually enjoy whatever grilling looks like for you at the moment. Once dinner is served, it will all be worth the hassle and you can go to sleep knowing you still found a way to make it happen!