How to Wash Dishes in a Food Truck
In the town where I live, food trucks have been increasingly more popular. There's just something about hanging out with your friends at a local park, grabbing some delicious food from a food truck, and listening to music that sparks joy and signals the arrival of summertime. While frequenting my favorite food truck venue recently, I was in awe of how many orders these small food operations can dish out.
I got to wonder, how do food trucks wash dishes? Due to the space limitations on the typical food truck, most food trucks will use either a high temp or low temp undercounter type dishwasher. If space doesn't allow a dishwasher, food truck workers may cart cookware to another facility to wash the dishes.
Most food truck business owners will select a dishwasher based on cookware washing needs, the amount of space available, water usage, and chemical storage capabilities. There is a lot more to washing dishes in a food truck than in a typical restaurant!
Choosing The Right Dishwasher for Your Food Truck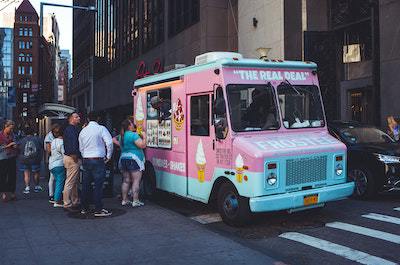 If the food truck has enough space, choosing to install a dishwasher can provide efficiency to the overall production operation. Oftentimes, food trucks will have utensils, spatulas, pans, and other cooking equipment that require washing throughout business hours. This will take valuable time away from employees if there isn't a dishwasher on board.
Due to the size considerations of the typical food truck, the best kind of dishwasher would be an undercounter option. However, it should be noted that their washtubs will be smaller and the wash pressure will be lower. So your productivity isn't affected, it will be important to find a dishwasher that allows you to change the wash pressure and find one with an NSF-rated pot-and-pan cycle.
Another food truck-specific issue to consider when washing the dishes is the leveling system. Food trucks usually have to park wherever space is available. This may include uneven ground or hills. The dishwasher will not work adequately if it's at an angle.
Before installing, a leveling system beneath the dishwasher should be considered so that once the truck is parked, the dishwasher can be adjusted to operate properly despite the food truck location.
In addition to these considerations, you will also need to consider how your food truck gets electricity as this may impact your decision.
High Temp Or Low Temp Dishwasher?
Not all food trucks are built the same. Many trucks will have power and water restrictions. This will ultimately affect whether a high temp or low temp dishwasher is chosen. So, why choose high temp or low temp?
While low temp dishwashers will use less power, they will use more water to wash the dishes and the ware will take a considerable amount of time to dry. If the cookware needing to be washed will be in regular use throughout business hours, the low temp dishwasher may cause productivity and efficiency issues.
On the opposite side of the spectrum, high temp dishwashers will use much more power to operate but will use less water. The higher water temperature tends to produce better cleaning results, such as removing heavy grease from the cookware.
This higher efficiency will come at a price, as most mobile food vendors don't have the in-house power to fuel a high temp dishwasher and generators may need to be purchased. Not only can this be a hassle, but that's an additional expense.
Cleaning Chemicals For Food Truck Dishwashers
Once you've determined whether a high temp or low temp dishwasher works best for your food truck operation, the cleaning chemicals also need to be purchased. High temp dishwashers require detergents, as well as rinse aid so the water will run cleanly off of the cookware.
A low temp dishwasher will require the detergent and rinse aid, as well as a sanitizing agent. We recommend selecting a chlorine-based solution, as it's the most common to find and an affordable product to use.
The amount of chemicals used will be in proportion to the water used. That means that higher temp machines will use less chemicals, and lower temp machines will require more chemicals to operate efficiently. In addition to considering the amount of chemical usage, food truck owners also need to take chemical storage very seriously.
Since the food truck is, of course, mobile, spills and leaks are more prone to happen. If these chemicals are spilled in a truck, it can be a safety hazard due to fumes. Over time, these chemicals can also be corrosive and eat through metal and damage the exterior of the truck.
What If There Isn't Room For a Dishwasher?
Like I said above, being able to install a dishwasher in a food truck ultimately depends on the space available, as well as your budget. High temp or low temp dishwashers can be quite pricey to operate and install. If this simply isn't an option for your operation, there are alternatives! Never fear.
Some food truck businesses have a second set of cookware that can be swapped in for use once the first set becomes dirty. At the end of business hours, the cookware can then be carted back to another kitchen facility to clean.
However, if the food truck business doesn't own another kitchen space, it may be cost beneficial to rent space at a commissary kitchen. This kind of space usually has dedicated dishwashing areas with large dishwasher machines that do a better job at washing the cookware anyway!
Food Truck Cleanliness Checklist
Just because food trucks are mobile vendors, does not mean their standards of cleanliness and sanitation are lowered. In addition to washing the cookware, food truck employees also need to make sure the food truck is clean throughout and after business hour operation. No customer wants to buy food from a gross kitchen! There are different sanitation tasks that need to be considered hourly, weekly, and monthly for proper food truck maintenance and cleanliness.
Throughout every cooking shift, employees should brush the grill between cooking red meat, poultry, and fish to prevent food contamination and food-borne illness. Cutting boards need to be switched and cleaned, and the major cooking prep areas need to be wiped down.
At the end of the workday, employees should wash hood filters by hand or run them through the dishwasher, wash can openers, sweep and mop the truck floor and sanitize all of the surfaces.
Weekly & Monthly Food Truck Cleaning Checklist
It's easy to forget other tasks that may not be used daily. However, there are weekly and monthly cleaning to-do items that will keep the food truck in tip-top shape. On a weekly basis, employees should empty coolers and sanitize them, remove the lime on sinks and faucets, clean the oven based on manufacturer's instructions, and oil cast-iron cookware.
On a monthly basis, employees should wash behind the hotline to cut down on grease build-up, empty and sanitize the ice machine, calibrate ovens and thermometers, wash the walls and ceiling, and wipe down the storage area.
Yearly Food Truck Cleaning Checklist
And finally, there are some yearly to-do list cleanliness items. You had no idea that food truck sanitation was so intense, did you? On a yearly or biannual basis, employees should clean the exhaust hoods, check the fire extinguishers, check the fire suppression system, clean the pilot lights on gas kitchen equipment. It is also important to have a professional pest control company inspect your vehicle.
Food Safety Standards And Food Trucks
Cringe-worthy enough, safety standards regarding food trucks vary widely across the country. According to the Huffington Post, there are over 2000 different state and local agencies in the U.S. that are responsible for inspecting food truck health standards.
For the most part, regulators do require food trucks to have hot and cold water, a refrigerator, and to dispose of waste properly. However, many food trucks aren't graded in food safety like restaurants. Many states don't require food truck employees to be trained in food safety practices.
This has alarmed many food safety advocates. For example, from 1998 to 2010, there were 53 reported incidents of foodborne illnesses from food prepared at mobile vendors, which infected 1186 people. The CDC says this is just a fraction of cases, as many go underreported.
Related Questions
How popular are food trucks? According to the Washington Post, food trucks are operating in over 300 U.S. cities as of 2018 and are nearly a $3 billion industry.
How much money do you need to start a food truck business? Fees of course will vary depending on the equipment purchased and your business location. Hopeful food truck business owners should allocate the following:
Vehicle Costs: Approximately $20,000. Common vehicles include trailers, VW Bus or a School Bus
Equipment Costs: Depending on what food you're offering, on average it costs $45,000 to furnish the interior of the food truck. Items usually purchases include fryers, refrigerators, stovetops, oven, and sink.
License and Permit Costs: This roughly costs $25,000, and will depend on where you live. You need to purchase a business license, food service license, parking permits, and insurance.
Inventory: Anywhere from $1000 – $2000
Maintenance: Food truck owners can usually inspect yearly maintenance on the kitchen equipment and the truck itself to cost up to $10,000 annually.
If you are hoping to launch your dream of owning a food truck, it is wise to talk to a Broken Arrow Business Consultant for guidance.
Thanks for reading Answers for Everyone! Find more answers to life's questions here.