Staying in shape should be important to all of us. Gym memberships, however, continue to skyrocket. But what if we told you that there was a way to get your gym membership at a discounted rate or even for free?! Better yet, what if you didn't have to jump through any hoops to secure this great benefit? Many Americans have access to a free or discounted gym membership at their fingertips.
Does insurance cover a gym membership? While it is not standard with all insurance policies, many health insurance companies offer discounted or even free gym memberships. Health insurance companies recognize the many benefits of living an active lifestyle. Because of this, they strive to encourage members to pursue health and wellbeing.
We all agree that health and wellness are priceless. However, with the high rate of gym memberships today, it can seem virtually impossible to some. In this post, we will discuss the different ways that insurance may cover your gym membership as well as how to learn more about this great benefit of your policy.
How to Get a Discounted Gym Membership Through Insurance
Who doesn't like to save some money?! By learning more about potential gym benefits offered through your insurance policy, you can eliminate your monthly gym charges. Health insurance companies recognize the benefits of staying active. Individuals who participate in some form of physical activity regularly have a lower risk of medical emergencies. By incentivizing trips to the gym, insurance companies can effectively reduce their members' insurance claims. It's a win-win situation for both parties! 
What Types of Insurance Offer Discounted Gym Memberships?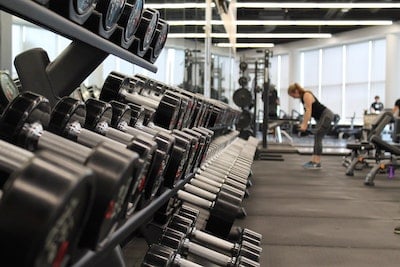 Most insurance companies offer special benefits to their members. Auto insurance companies may offer discounts on car maintenance or AAA memberships. Homeowners insurance companies may provide members with discounts on home security systems. 
Health insurance companies, however, often offer the most useful discounts. Through your health insurance policy, you may have access to free or discounted gym memberships, wellness programs, meal planning services, and more! It is important to look into the various benefits provided through your policy to ensure that you are getting the most out of your investment in health insurance.
Does Your Insurance Policy Offer Wellness Benefits?
Most health insurance policies offer some form of wellness benefits to their members. If you have been with the same insurance company for several years, you may have forgotten about some of the valuable benefits you may have access to! As insurance companies become more aware of the importance of staying active, they are beginning to offer a wider variety of benefits to their policyholders. Here are a few ways to find out if your insurance policy offers wellness benefits.
Investigate Your Insurance Plan Benefits
The easiest way to find out if your insurance policy offers wellness benefits such as a discounted gym membership is by investigating your plan benefits. Policy benefits are often listed in the information you received upon enrollment. However, you may also be able to locate this information on your insurance company's website.
Contact Your Tulsa Insurance Provider
If you are having trouble finding information regarding the benefits of your health insurance policy, you may need to reach out to your insurance provider. As insurance experts, they may be able to answer your question immediately. If not, they will be able to easily access information regarding any wellness benefits provided through your policy.
Ask Your Gym of Any Known Insurance Partnerships 
Finally, your gym may also know of any partnerships with health insurance companies. Larger gym chains are much more likely to have these partnerships in place. Asking your gym for information regarding possible discounts may uncover additional information on ways to save money for staying fit! 
Getting a Gym Membership Through Your Insurance Policy
Now, it is important to note that your insurance company will not likely pay for your gym membership directly. Here are a few of the ways that your health insurance policy may incentivize fitness.
Reimbursement or Stipend for Gym Membership
Most health insurance companies offer some type of reimbursement or stipend for your gym membership! Often between $100 – $400 per year, this is granted to individuals who can provide documentation of their gym use over a set period of time.
While some insurance companies simply require receipts of your payments to the gym, others will request that you log your workouts for several months to verify that you are active. Although it may require a bit of work on your hand, receiving money back on your gym costs will always be worth the extra effort.
Discounts on Gym Membership or Fitness Products
Other insurance companies choose to offer discounts on membership to specific gyms or fitness products. Often found in a type of online marketplace, these discounts can range from annual memberships, FitBits, meal planning services, active apparel, and more! Again, these discounts may be accessible to all members or you may need to verify your participation in physical activity to be eligible. 
Silver Sneakers Program for Senior Citizens
Many insurance companies realize how important it is to stay active at all ages. Staying fit benefits not only your physical health but your mental health as well. Because of this, most health insurance companies offer access to the Silver Sneakers program to members over the age of 65. This great program grants senior citizens free access to the majority of large gym chains as well as fitness resources to use within the home. 
Incentive-Based Rewards Program
Another way that insurance companies may pay for your fitness-related expenses is by offering an incentive-based rewards program. This may look like reimbursement for participating in a weight loss program, lowering your heart rate, or even participating in a set number of fitness classes. Incentive-based rewards programs will require you to check-in regularly to both verify and track your progress.
Reimbursement for Fitness Equipment
While it is the least common way that your insurance company may reimburse you for staying active, some policies cover fitness equipment for your home. This is often when your fitness equipment is deemed medically necessary by your doctor. Things such as treadmills, dumbbells, weight lifting machines, stationary bikes, and more have been covered using this type of program! 
As you can see, there are countless ways that your insurance policy could provide you with financial rewards for pursuing both physical and mental health. It is to your benefit to carefully research wellness incentives that are offered through your insurance company as it could save you hundreds of dollars each year! 
Employer-Incentivized Fitness Programs
Whether your health insurance policy offers fitness benefits or not, your employer may! Many large corporations understand the benefits of healthy employees. From less expensive insurance costs to more productive workdays, a healthy team benefits the company as a whole. For this reason, many employers offer gym memberships as an employee benefit.
It is to your benefit to speak with your HR department regarding health and fitness-related benefits. 
Prioritize Your Health & Wellbeing
No matter your age, it is important to prioritize your health and wellbeing. If your current insurance policy does not offer wellness benefits, you may consider switching to a new policy that aligns with your priorities. By joining a gym or attending fitness classes, you can remain healthy and strong for years to come! 
Wondering what other benefits your health insurance offers? Some insurance policies may cover things such as online counseling, chiropractic care, and even massage! Contact your insurance provider today to learn more about ways to improve your overall health and wellbeing. 
Thank you for reading! Find more answers to life's questions here.