How Much Does a Nutritionist Cost Without Insurance?
It's the start of a new year. And as cliche as it sounds– new year; new you. From new year's resolutions to remembering how to write the year on your checks, a new year contains many things that change a person. Research shows that 12% of new gym members join in January. So, if your one of 12%, or more, who have decided to start getting serious about their health, where do you start? Well, consulting with a nutritionist is an excellent way to map out your health journey and prioritize good nutrition. 
So, how much does it cost to see a nutritionist without insurance? Typically, nationwide, a nutritionist can cost from $70 to $100 on average. Many nutritionists require an initial consultation to assess the client's nutritional and dietary needs to determine the best course of action. One-hour initial consultations with a registered nutritionist could cost about $100 to $200. Costs can increase if a dietitian comes to your home. If you require a follow-up appointment, it could cost $50 to $150 each, depending on the nutritionist. Examples of some prices are $99 for a 45 to 90-minute initial consultation or $120 for a 75-minute initial consultation. 
Sometimes a consultation is covered by your health insurance, especially for people with heart disease, diabetes, and other conditions affected by your eating habits. For customers covered by health insurance, the typical out-of-pocket costs can be around $10 to $40, usually a copay or approximately 10 to 20 percent of the total cost for a visit. 
Additional Nutritionist Costs
Additionally, it may be recommended that you take classes on healthy cooking. This can cost $10 or more for each class. Some nutritionists offer additional services like personalized grocery shopping or pantry stocking. This is often more costly and can range from $450 or more, not including your groceries' cost. 
What Affects the Cost of Seeing a Nutritionist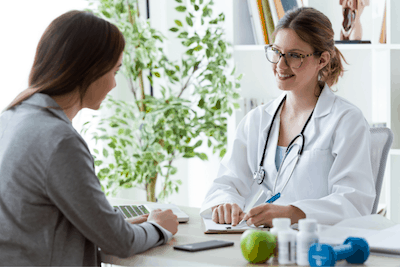 Several things can affect the cost of a nutritionist's services. For instance, their level of education or certification can affect the price. The pricing structure or packages they offer can also change the cost and save you money in the long run. The price also depends on whether you plan on attending ongoing sessions or a one-time session. Recurring sessions are typically priced less than the initial session and can often be purchased on a visit-by-visit basis. 
Another essential factor that can affect the cost is the reputation and location of the nutritionist. If the nutritionist you want to see is well-known, they may have higher fees per session than those who are just starting out. Nutritionists that have more advanced education, training, or degrees can also charge you more. Geographically, if a nutritionist is located in or near a larger city or area with a higher cost of living, they'll often charge higher rates. 
What to Look for When Finding a Nutritionist
When you're looking for a nutritionist, you want to find someone that you trust. You must have a trust that is built up with those to who you give your medical information. If you give your information to someone who doesn't have the proper knowledge, they can wrongfully counsel you, leading to your harm. That's why knowing that the medical professional that you are consulting with is a registered professional helps to ease any worries you may have about their legitimacy. Note that the title "nutritionist" isn't protected by law and does not require regulation, but that does not mean a nutritionist cannot be formally trained or educated. 
Ask the Right Questions
When hiring a nutritionist, ensure that you ask the right questions. You'll want to ask what certifications they have, what types of approaches they use, what their specialty is, and how much sessions as well as follow-up sessions cost. Asking these questions can help to determine that you're hiring the right nutritionist for you. 
Any registered dietician nutritionist (RDN) are licensed and regulated by the state in which they operate. They're required to complete regular training to maintain their credentials. In more than a dozen states, specific qualifications must be met before they can be called a nutritionist. Accredited nutrition certifications grant titles such as Certified Nutrition Specialist (CNS) or Licensed Dietitian Nutritionist (LDN). In most states in the U.S., nutritionists who receive these certifications have the authority to practice medical nutrition therapy and other aspects of nutrition care. 
It's important to note that in states where there isn't a regulation of the term "nutritionist," anyone interested in nutrition or diet may refer to themselves as a nutritionist. So, if you are interested in finding a nutritionist with the proper certifications, check what is required in your state and see if the medical professional you're considering helping you hold those accreditations or titles. 
Determine Your Bidget
When looking at nutritionists, you'll also want to determine your budget and remember to ask for references. Knowing their clients and their successes will give you insight into them as medical professionals and their type of work. Hearing the testimonials and reviews from current and past clients also helps to ensure that the nutritionist's specialties align with your health journey goals. 
Discounts for Nutritionist Visits
Usually, hiring a nutritionist costs less when you purchase sessions in bulk or as a package. Not every nutritionist may offer discounts or package deals, but many do. For example, one month of services could cost $190, three months could cost $360, and 6 months could cost $540 at one nutritionist. To help save on money, you can see whether they take insurance. Many registered dietician nutritionists take health insurance, especially if you're working with one, as a preventive measure. 
However, insurance doesn't always cover your sessions with a nutritionist. It isn't cheap, and not all insurance packages cover seeing a nutritionist. Cost may vary depending on the location, level of experience, and what they specialize in. You can also ask about group programs to help save money. A group program is often significantly less expensive than traditional one-on-one sessions.
If you are in the process of prioritizing your health, your health insurance may cover a gym membership!
Things You Can Talk to a Nutritionist About
Often, nutritionists will have clients keep a food and drink diary for a certain amount of time before a consultation. You'll be asked about your eating habits, including your meal and snack habits, your current caloric intake, current nutritional intake, nutritional deficiencies, and excesses in your everyday food intake. A nutritionist will make a personalized diet recommendation based on your goals and health conditions. 
By keeping a detailed journal of your food and drink intake, your nutritionist may identify potential food allergies causing inflammation or weight gain. If this is the case, the nutritionist will likely suggest that you see an allergist.
Be prepared to discuss your eating habits in-depth, as well as your current goals. It's vital that you are honest with a nutritionist. It's their job to help encourage you to reach your goals. Just like it is with any medical professional, there shouldn't be any judgment. And just like other medical consultations, they can be conducted via phone or email.
Conditions that Nutritionists Treat
Generally, a nutritionist can provide guidance and expertise for weight loss, muscle gain, improved sports performance, meal plans, management of health conditions, and overall better health. Health conditions they help to treat include diabetes and high cholesterol. 
Certified Nutrition Specialists are legally able to treat health conditions in most states, and more than a dozen states regulate the title "Licensed Nutritionist" or "nutritionist." Nutritionists can treat any condition a registered dietitian would. They can prescribe nutrition therapy, which can help manage or treat illnesses or other conditions through nutrition. Nutritionists can also oversee community nutrition education programs.
Benefits of Seeing a Nutritionist
Seeing a nutritionist can help clients of any age or walk of life! Especially if a client is looking to change their dietary habits, a nutritionist can help you with specialty diets, such as gluten-free, high-protein, low-sodium, low-carbohydrate, vegan, or vegetarian. Those with food allergies or who have to alter their diets due to diabetes can also benefit. 
Seeing a nutritionist should be taken as seriously as seeing any other type of medical professional. Just like with finding the right doctor or chiropractor, you should ensure that they fit your needs. Each person as an individual as well as their needs is unique. No matter the reasons you are looking to hire a nutritionist, they'll help you set priorities, monitor your process, and maintain your success. 
A nutritionist can help you better understand a condition that you may have or better understand the impact nutrition can have on your health. They'll provide nutrition information and advice, and they're trained to empower their clients through support and motivation. They can hold you accountable for the lifestyle decisions you make and maintain your lifestyle changes. They're there to celebrate your short-term and long-term successes!
In Conclusion
Changing your life isn't easy, no matter when or where you start. Nutritionists understand that there can be roadblocks and have been trained to help you handle them. While your health insurance may not cover your nutritionist visits, there is always a way to receive treatment. One way to find the financial resources to prioritize your health is to work with a company that offers Tulsa Accounting Services. They'll help you find solutions to challenges and navigate your plan to ensure it fits your needs. Whatever your goals are, there's a nutritionist for you that fits your lifestyle.