The Guide To Flying Coach For A Great Experience
When it comes to air travel, there are a lot of people who would rather fly first class. However, there are plenty of people who only fly coach (also known as economy) because it is what they can afford. If you find yourself in this latter group, don't worry- there are still ways to make your coach flying experience a good one! In this article, we will break down how to have the best experience flying coach- a complete guide.
Check-In Early Online
Wear Comfortable Clothes
Keep Yourself Entertained
Bring A Small Carry-On Bag
Follow All Bag Guidelines And Rules
Get To The Airport Early
While these tips are great for anyone flying, the most important tip for having a good experience flying coach is to be prepared and be realistic with your expectations. Let's go over each of these tips in more detail.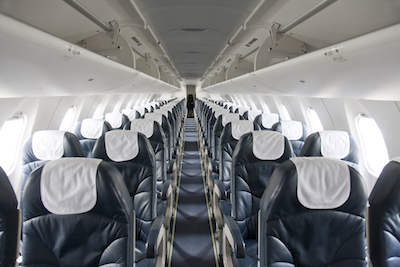 Check-In Early Online
Few things are more frustrating than standing in line at the airport, especially if you're worried about missing your flight. Checking in online is a great way to avoid long lines and get your trip started on the right foot. And it's easy to do! Just follow these simple steps and you'll be well on your way.
First, visit the website of the airline you'll be traveling with. Most airlines allow you to check in online starting 24 hours before your flight.
You'll need to enter your booking information, such as your confirmation number, last name, and flight number.
Once you've entered this information, you'll be able to possibly select your seat, print your boarding pass, and check any baggage you might have.
Keep in mind that you may not be able to check in online if you're traveling with certain types of tickets, such as award tickets or tickets that require special handling. In these cases, you'll need to check in at the airport. But for most travelers, checking in online is a quick and easy way to avoid those pesky lines. So next time you're getting ready for a trip, remember to check in online!
Wear The Right Clothes and Shoes
While you can't control how comfortable the seats are, you can control what you're wearing. There's nothing worse than being trapped on a long flight in uncomfortable clothing. To avoid this, be sure to dress in clothing that is loose and comfortable. Yoga pants or athletic fabrics are ideal, as they won't restrict your movement. Similarly, choose a shirt that won't bind or tighten when you sit down.
And don't forget about shoes! Make sure to wear socks and shoes that aren't too tight or won't rub all flight. Some people like to slip their shoes off during a long flight. So make sure to wear shoes that are easy to get on and off. Also, wear or bring socks with you. As your feet could get cold and it's considerate to those around you to not be barefoot. Don't forget to bring a jacket as well! With a little planning, you can ensure that your clothes will help you have the best experience flying coach.
Keeping Yourself Entertained
If you're one of the many people who get anxious about flying, or if you simply want to make the most of your time in the air, there are a few things you can do to make your flight go by faster.
Try to get comfortable. If you're able to recline your seat, take advantage of that. Also, if you have a blanket or pillow, use it to help you relax and even sleep when you can.
Bring headphones and pre-download some of your favorite songs, movies, or podcasts to get lost in during the flight.
If you start to feel hungry, snack on something that won't make you feel bloated or uncomfortable, like nuts or fruit.
Bring small brain-teaser games, word searches, or puzzles if you get sick of a screen.
If you find yourself getting restless, try walking up and down the aisle for a few minutes to stretch your legs.
By following these tips, you can make even the longest flight on coach feel like a breeze.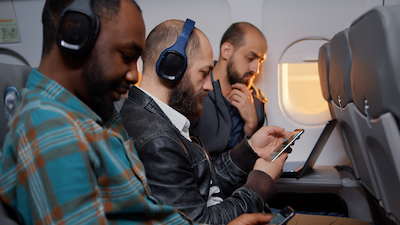 Bring a Small Carry-On Bag
There is nothing more annoying when you're trying to get through security than being that person who has the gigantic, heavy carry-on. Not only does it slow down the line, but it could cause you problems and delays too. It's much better to travel light, with a small bag that can easily be stored in the overhead compartment. Not only will this save you time by skipping baggage claim, but you will also have any emergency items with you on your flight.
Make sure your carry-on bag does not have any liquids or gels that exceed 3.4 ounces, as these will need to go in a quart-sized bag in your carry-on. Not only does this ensure safety is first, but it will also speed up the security line. Your carry-on bag should also not have any sharp objects, such as scissors, razors, or knives.
Follow All Bag Guidelines and Rules
When packing your bags for a coach flight, it's important to look ahead of time at the airline's baggage guidelines and rules. This will help you avoid any stressful surprises at the airport. Such as being charged for an extra bag or having to check a bag that you thought was carry-on size.
Most airlines have similar policies, but it's always best to check just in case. In general, you're allowed one carry-on bag and one personal item, like a purse or briefcase. Your carry-on bag must be able to fit in the overhead compartment or under the seat in front of you, and it can't weigh more than 50 pounds. If you have any questions about what is and isn't allowed in your carry-on, be sure to check with the airline before you travel.
Get To The Airport Early
I know we've all heard this a hundred times, but there's a reason why everyone says to get to the airport early. Not only does it give you time to check in and drop off your bags, but it also gives you time to relax before your flight.
If you're one of those people who get anxious about flying, being at the airport early will give you time to calm your nerves. and get into the right mindset for your flight. It also allows you to avoid any stressful surprises, like long security lines, changed flights or your gate is changed.
In general, it's best to arrive at the airport at least two hours before your flight is scheduled to take off. This will give you plenty of time to get through security, grab something to eat, and use the restroom before boarding your plane.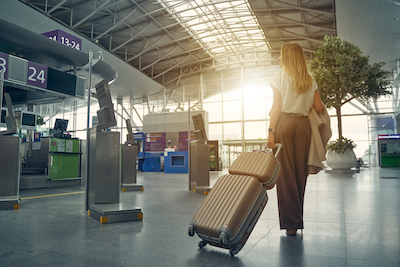 The Bottom Line
We hope these tips help the next time you fly coach! Remember that flying coach means you are getting a more affordable flying rate so keep your expectations realistic and plan ahead for a smooth flight! Thanks for reading, make sure to share this article with your friends!
Related Questions
What should I do if my flight gets canceled?
If your flight gets canceled, the first thing you should do is contact your airline. They will usually be able to rebook you on another flight or refund your ticket.
What are some tips for flying with a baby?
Some great tips for flying with a baby include checking in online so you can avoid the airport check-in line. Also, dress your baby in comfortable clothes and bring along a few essential items like diapers, wipes, and formula. Additionally, book a seat near the aisle so you can easily get up to walk around and stretch your legs. And finally, be sure to pack some snacks and drinks for yourself. So you can stay hydrated and avoid getting hungry!
What are some tips for flying with a pet?
The best tips for flying with a pet include booking a direct flight to reduce stress on your pet, making sure your pet is properly hydrated and has gone to the bathroom before boarding the plane, and bringing along a comfortable carrier or crate. It's also a good idea to have your pet microchipped and to have all of their vaccinations up to date. And finally, remember to keep your cool and be patient – flying with a pet can be stressful, but it's important to remain calm for your pet's sake.