Do These 8 Things With Your Car Before You Travel For The Holidays
The holidays are a busy time for travel, and that means your car might be doing a lot of extra work. Before you hit the road this holiday season, make sure to give your car some love and attention. A little preparation goes a long way toward keeping your car running smoothly, avoiding any stressful breakdowns, and keeping you and your passengers safe. So what are some things that you should do to prepare your car before you travel for the holidays?
Here are 8 things you should do to prepare your car before you travel:
Get an oil change
Check your tires
Make sure all lights are working
Check windshield wipers
Pack an emergency kit
Ensure car insurance and registration is up to date
Clean out your car
Always keep a full tank of gas
By taking the time to do these 8 things with your car before you travel, you can rest assured that no matter how far away you travel this holiday season, you and your vehicle will be ready for the road. Let's get into these things a bit more to learn why they are important and how to prepare properly.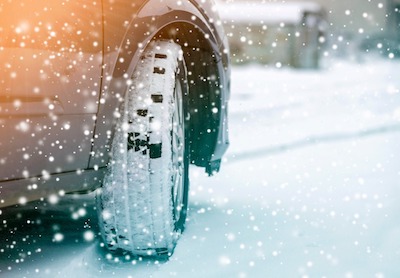 1. Get an Oil Change
Most vehicle owners know that routine oil changes are essential for keeping their cars in top condition. When used oil is changed regularly, it helps to ensure the engine runs more efficiently and effectively. It also helps protect your vehicle from wear and tear, which can otherwise accumulate and cause long-term mechanical damage.
Even with synthetic oils that can last longer before an oil change is needed, regular service will also help to reduce the amount of water vapor and fuel contaminants in the oil, further improving its performance. So whether you're due for a change or not, take some time to make sure this important step is taken care of. It will pay off in the long run with a more reliable and dependable vehicle! Another benefit of taking your car in for an oil change before traveling will also get your other important fluids checked and topped off if needed.
2. Check Your Tires
Properly inflated tires are key for a smooth ride, increased gas mileage, and better handling on the road. In addition, having enough tread depth is also critical for maintaining control and traction on the pavement when accelerating, cornering, and braking, especially in poor weather conditions. To check tire pressure and tread depth, use a tire gauge to measure air pressure and visual inspection of the tread wear pattern to make sure there's still adequate tread. Also, you can take your car into a tire shop for a more thorough inspection of tread depth and tire wear.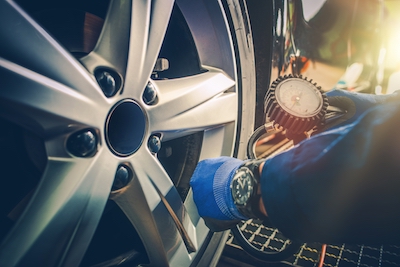 3. Make Sure All Lights Are Working
Driving with broken lights is a danger to not only to yourself but other drivers on the road. Not only does it impair your vision at night, but also signals to others that you may not be paying attention. A broken tail light can even lead to getting pulled over by police and receiving expensive fines. To make sure all of your car's lights are truly ready for the road, start with a visual inspection. Look at each light and surrounding area to check if there is any visible damage or discoloration indicating burned-out bulbs.
In addition, drive during the day and have a friend or family member help you examine the lights from outside of the car – because it can be difficult to tell if they're working properly while behind the wheel. Taking time to double-check your car's lighting system will give you peace of mind that you won't get stuck in an unforeseen situation on the road due to a faulty light. Make sure all of your lights are working properly – you don't want unexpected surprises like getting pulled over for a broken tail light!
4. Check Windshield Wipers
This may be one thing many drivers forget about until it's too late. But ensuring your windshield wipers are in good condition is vital for maintaining a clear view when driving. Especially during bad weather which is common during holiday travel. Likewise, windshield washer fluid should also be topped off to ensure the best visibility while driving. Start by checking the rubber portion of the wiper blades. If they look cracked, frayed, or seem worn out, it's best to replace them before taking a long road trip. Windshield wipers are fairly inexpensive so it's definitely worth getting new ones to ensure your safety while driving.
5. Pack an Emergency Kit
Being prepared for an emergency is key if you ever find yourself in an unexpected situation while traveling during the holidays. Keeping a well-stocked emergency kit on hand can save you from running into costly problems if something goes wrong. Every kit should include a spare tire, jumper cables, and a flashlight. Additional items such as snacks, a blanket, and extra water could also be valuable in an emergency.
In addition, if you are injured in a car accident or experience any other injury, it's important to have a first-aid kit with items like antiseptic wipes, bandages, medical tape, and scissors just in case.
6. Ensure Car Insurance and Registration Is Current
When it comes to car ownership, having the right insurance and registration is essential. Your car insurance protects you from financial liability if a crash were to occur, as well as provides coverage for any necessary repairs or medical services. It's important to ensure that you have quality care insurance, so be sure to view ratings, inquire about discounts and shop around for the best rates.
As for car registration, you'll need a current one in order to legally drive your vehicle on public roads. Your state or provincial government may require you to register or re-register your vehicle at certain intervals such as when purchasing a new vehicle or undergoing a change of address. Check with your local DMV or motor vehicle department on the exact requirements in your area. Keeping up to date with car insurance and registration will grant you peace of mind knowing that you're meeting your legal obligations in regard to driving on public roads safely and responsibly.
7. Clean Out Your Car
While this item on our list isn't as necessary, keeping the inside of your car clean and organized can make a big difference to the quality of your drives. It is important to give your car some TLC every once in a while and start with a deep clean-out. Get rid of any unnecessary items that can pile up in the backseat or floorboards, and organize items that you need to keep. This will make your car a much more enjoyable place for your holiday travels.
Also getting rid of all the trash and doing a thorough vacuum can also eliminate any unwanted smells or germs that can accumulate over time. Doing a quick clean-out of your car will make sure you and your passengers are comfortable while on the road. As well as keeping it looking nice.
8. Always Keep a Full Tank of Gas
Nothing is worse than running out of gas in the middle of nowhere or while stuck in traffic. To avoid this, make sure to keep a full tank of gas as much as possible during your holiday travels. This is definitely worth it to make sure you don't find yourself stranded on the side of the road or stressing out even more during busy holiday traffic. The advantage of stopping regularly at a gas station is that you will also be able to give your windows a quick wipe to eliminate any streaks, bugs, or ice. You can also give your tires a quick check as well.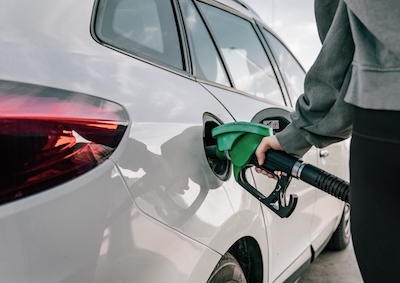 The Bottom Line
Preparing your car for traveling during the holidays doesn't need to be overwhelming as long as you plan ahead. Taking the time to check vital items like your tires, windshield wipers, brakes, and fluid levels can help you avoid any road emergencies that could be dangerous or costly. Also making sure all your car's documents are up-to-date will save you from getting pulled over by law enforcement. You don't have to do all of this preparation the day before your trip either. In fact, we don't suggest that, but rather add a few of these items to your weekly schedule. This way you can safely and confidently kick off the holiday season. We hope you enjoyed this article, please share it with your friends. Happy holidays and happy travels!
Related Questions
How do I determine when the weather is too bad to travel in?
The best way to determine if the weather is too bad to travel in is by checking your local news channels and listening to reports regarding road conditions. If experts suggest that roads are dangerous or impassable, it may be best to postpone your travel plans until conditions improve.
What are good snacks to keep in my car?
Good snacks to keep in your car are items that are filling, nutritious, and won't spoil. Some examples include granola bars, trail mix, dried fruit, peanut butter crackers, protein bars, and nuts. These options will give you the energy you need during your travels while minimizing messes or food waste.