Can I Afford a Pulmonologist?
Do you have the money to be seen by a pulmonologist? This is a question that might come to you if you have been experiencing respiratory issues and need to be seen by a doctor. After doing some research, I have found that this type of care is within your reach. Pulmonary medicine is s field where specialists diagnose and treat issues with a person's respiratory system. These issues cover a variety of sicknesses such as:
asthma, bronchitis,

COPD (chronic obstructive pulmonary disease),

emphysema, lung diseases, and

obstructive sleep apnea.
So, what exactly makes up the costs of seeing a Pulmonologist? Costs range from $40 to $800 for those without health insurance according to Health Care Blue Book. For those with insurance costs are typically covered at 80%-100%. This will also depend on what region of the United States you are in, if you have insurance coverage, and what your insurance covers. In this post, we will discuss the typical costs of seeing a pulmonologist and other key items which will help you to plan and budget your costs.
As you continue reading, I will discuss some questions regarding your pulmonary visit and the costs of seeing your pulmonologist. How do you know when you should see a pulmonologist? When you go to the pulmonologist what tests can you expect them to run and what are their costs? What exactly does health insurance cover? Many variables can come into play when seeing a pulmonologist.
When Should You See a Pulmonologist?
You will know the right time to see a pulmonologist. There are a few signs and symptoms you want to watch out for. If you see yourself experiencing any of the following symptoms you will want to make an appointment:
A non-stop cough
Regularly cough up blood or mucus
You are a smoker
Difficulty breathing
Breathing problems that hinder you from exercising
These are just a few signs and symptoms to be mindful of when it comes to your pulmonary health. If you are experiencing any of these, please follow up with your primary care doctor. They will refer you to a pulmonologist if they believe it is necessary.
What Does a Pulmonologist Do?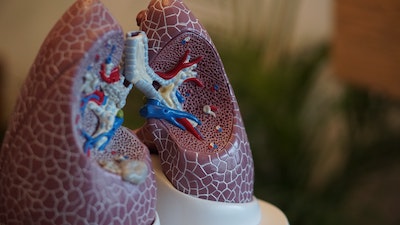 A pulmonologist will help to diagnose these ailments by giving you pulmonary function tests. These tests are essentially what you will be paying for.
You also will be responsible for the fee it costs to be seen by a specialist. This fee can vary depending on your insurance coverage.
In addition to these fees during your visit, you might need to have bloodwork done which would be paid to your lab.
Your doctor could also ask you to get other tests such as a CT scan, chest x-ray, chest ultrasound, or a sleep study. All of these procedures involve doctors who are not pulmonologists.
However, these tests will help your pulmonologist to have s clear picture of your respiratory health. If you need more serious care, (for instance in the case of needing a lung transplant) your care would be more complex, therefore incurring more costs. Basic or routine respiratory care is at the lower part of your cost spectrum. It is best to get your routine care done at minimum cost before it turns into a more expensive issue.
What Are Some of the Tests My Pulmonologist May Run?
Pulmonologists can run an assortment of tests to help diagnose any respiratory symptoms or sickness. The most common tests include a spirometry test which is used to test your lung functioning. This test can be used to determine if you have asthma. It generally is approximately  $100 to $175 without insurance.
Next is a lung volume test. This tests how much air your lungs can hold. These tests can range from $165-$300. A full lung function test which includes spirometry, gas transfer, and lung volume analysis can cost up to $400 without insurance.
Keep in mind that these cost estimates can vary based on your location and medical facility. It is always best to call your doctor's office to determine the exact price ranges and costs. 
What Does Insurance Cover During a Pulmonary Care Visit?
Insurance typically covers 80% to 100% of the cost of your pulmonary tests. Your pulmonologist would need to indicate to the insurance company that these tests are medically necessary. To find the most savings when you visit your pulmonologist, having insurance would be best.
At times you might need to see a primary care doctor first and get a referral to a pulmonologist. This is sometimes required by insurance companies when covering this type of specialty care. Also, check with your insurance regarding any preauthorizations which might be needed for them to pay for your care. 
Shopping for the Best Pulmonary Function Test Rates 
One way to search for the best testing rates without insurance is to begin searching online. You can find certain basic testing from low to no cost. The national organization, the COPD Foundation, offers free pulmonary testing through their Mobile Spirometry Unit.
At times basic testing is also done via free health fairs. There are online databases such as MDsave which aggregate costs nationally and will help you search out the best testing rates. Other places to find useful information regarding pulmonary testing and what to expect are the COPD Foundation and the American Lung Association. 
Help Paying for Pulmonary Visits & Tests
If you do not have insurance, you can often receive help paying for these and other tests from medical providers. It is not the best decision to not see a pulmonologist and get these tests due to the inability to pay. You do not want to risk having a medical issue get worse over time because you were not able to get the needed medical care. There are options available.
Some places to start include community health clinics, walk-in clinics, direct care providers, the emergency room, or urgent care centers. Community and walk-in clinics often service cash-only patients and therefore have lower cost rates. At times their rates are based on a sliding scale.
Direct care providers cater to self-pay patients. These concierge clinics offer a spectrum of pricing and other services which might work for you. Emergency medical providers cannot refuse care to any patient. If your situation is emergent this might be your best option for care.
Many times hospital ER units have the opportunity for payment plans and financial assistance to help with costs to self-pay patients. If you are in a non-emergent situation an urgent care center could work for you. These clinics can be more economical for self-pay patients with immediate or time-sensitive medical needs. Look into these options if you do not have insurance or want to pay out of pocket for your care. 
Related Questions
How do I find a pulmonologist? Finding any good doctor can be a difficult task. When finding a pulmonologist you can start with getting a referral from a trusted source such as a friend or your primary care doctor. In your search review the doctor's credentials and recent patient reviews. If you have insurance you can also explore providers listed on your insurance's website. 
Are pulmonary tests painful? These tests are not painful when performed by a qualified pulmonary medical specialist. These tests will require you to breathe air in and out of specialized equipment. You will have to repeat the tests several times for accurate results. 
What should I expect when I see my pulmonologist for testing? The medical office you visit will typically give you the pre-visit parameters they would like you to follow. This could include taking your regular medicine before testing unless otherwise specified, not smoking for 6 hours or more prior to testing, restricting your inhaler use as specified, or any other instructions regarding medications. The medical office will change mouthpieces and other equipment between patients. They will also use special filters to prevent the spread of bacteria between patients.